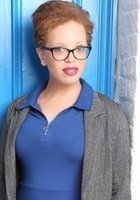 Jeannette
Certified Tutor
Hi there! My name is Jeannette and I would be delighted to help your child reach his or her academic goals.

My tutoring experience rests upon a solid educational foundation: After having graduated in the top 1% of my high school class, I obtained a BA, cum laude, in French and Romance Philology from Columbia University. I then moved to Paris and earned a French master's in Finance from Sciences Po, a school belonging to the "French Ivy League." I stayed in France for over four years before moving to Sweden to earn a second master's degree in Sustainable Development as an Uppsala University Scholar.

Throughout my international studies and business career, I have taken the opportunity to tutor students of all ages--including those in elementary school, middle school, high school, and college. As a result, I am committed to providing a well-rounded, tailored, and fulfilling educational experience for your child.
Test Scores
ACT Composite: 31
ACT English: 34
ACT Reading: 36
Hobbies
Technology, world travel, art, theater
Tutoring Subjects
College English
Conversational French
High School English
High School Writing
Middle School Reading
Middle School Reading Comprehension