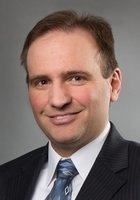 Jonathan
Certified Tutor
After several years working in the private sector after finishing my PhD in physics, I am eager to help students wrestle with and master concepts in their math and physics classes. I have extensive experience tutoring students in both math and physics at the high school and college level in one on one and larger group settings. During my PhD I was awarded a teaching fellowship which allowed me to continue teaching while I continued to perform research and carry out my dissertation work.

I have always enjoyed teaching and particularly enjoy helping students where they are struggling and to help them work their way through, figure out and master challenging concepts in the sciences and math.

In addition to my own math education, I also have experience as a private tutor in math, mainly teaching high school level pre-calculus and calculus. I find that examples from the real world can help bring math problems to life and help cement the concepts with more concrete applications.

In addition to my PhD in physics, I also did some research in astronomy and astrophysics and particularly enjoy that branch of physics. While completing my PhD I taught a number of courses, helping and teaching students in classroom-sized groups, in smaller group problem working sessions and in individual tutoring sessions.

Please contact me at your convenience to discuss my teaching methods in more detail and to schedule tutoring sessions. I look forward to helping you with your physics and math needs!
Hobbies
Baseball, movies, video games
Tutoring Subjects
AP Physics C: Electricity and Magnetism
AP Physics C: Mechanics
College Physics
High School Physics