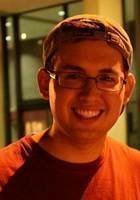 Andrew
Certified Tutor
I am a PhD student in Psychology and Cognitive Neuroscience at the George Washington University and have an extensive background in math, science, and writing. As a tutor, I will be able to work with you across a broad range of topics. In terms of hobbies and interests, I enjoy discovering new music and collecting records. In the past, I have even hosted my own radio show. I also enjoy kayaking and playing sports including basketball and tennis. In addition, I enjoy cooking and exploring new cuisines, and I try to do this as often as possible.
Test Scores
ACT Composite: 33
ACT English: 35
ACT Math: 34
ACT Reading: 31
ACT Science: 31
SAT Composite (1600 scale): 1510
SAT Math: 710
SAT Verbal: 730
SAT Writing: 760
GRE Quantitative: 168
GRE Verbal: 165
Hobbies
Plays pick up basketball and tennis a few times a week. Collects records and likes to check out local music. Has worked at a radio station before doing a college radio show.
Tutoring Subjects
Neurobiology
Neuroscience
Social Sciences