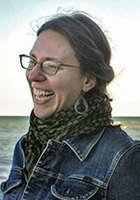 Leah
Certified Tutor
I am a professor at UWM, teaching graduate level courses in Translation and Interpreting Studies. I have also taught high school students in Spanish at Concordia Language Villages, and taught undergraduate students Spanish as a TA from 2003 to 2010.

I want to tutor because I love face to face instruction. My current position has me teaching exclusively online, but my true passion is interacting with students personally. I like the ongoing, one on one nature of tutoring because it allows for the development of a relationship that fosters trust, respect and commitment.

I am a volunteer for Ex Fabula, which features live storytelling on stage; I've even won audience favorite as a teller myself! I love to walk on the Oak Leaf Trail, play board games with friends, read novels, play volleyball and translate literature. I work well with students who have ADHD, and am warm and engaging with children of all ages.

For students who are preparing for college or for graduate school, I can provide the inside scoop on what your professors are looking for--because I am one! I spend a good part of my time revising and evaluating student writing, and can provide valuable feedback for students from high school through graduate school.
Education & Certification
Undergraduate Degree: Central College - Bachelor in Arts, Spanish and Latin American Studies
Graduate Degree: University of Iowa - PHD, Spanish
Hobbies
Literature, board games, translation, playing outdoors
Tutoring Subjects
College English
Comparative Literature
Conversational Spanish
High School English
Latin America History
Spanish 1
World Literature