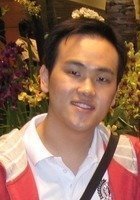 Ted
Certified Tutor
Education shouldn't be a tedious and boring chore that one dreads. Instead, it should be a fun and exciting experience that one will be drawn towards. This is an ideal standard by which I base my whole philosophy on.

As a teacher/tutor for over 8 years, I have been able to consistently improve on my teaching methodology. Though it took a good amount of time, the end result is my special ability to help every type of student succeed. The secret is creating a unique bond with each and every student. Whether it is from the most laid back style of teaching possible or the strictest one required, I am able to quickly and adequately provide a comfortable teaching environment to almost any student. This is a key element in the success of a student because each and every young mind is unique. Keep in mind though that even though the idea sounds simple, it takes years and years of experience to master.

After teaching for a while, I realized something important within myself. While some may view teaching as a "job," I personally see it as a way to express my passion. In other words, I don't see teaching as a simple career but rather a way of life that I cannot do without. Therefore, I for one employ the opportunity to teach others with the utmost respect and professionalism. The privilege to bestow wisdom onto others is a rare gift that no one should take lightly. Therefore, if you want to enjoy learning like it was your favorite food or your favorite hobby, then let me show you the way!
Education & Certification
Undergraduate Degree: SUNY Stony Brook University - Bachelor of Science, Biology, General
Hobbies
Snowboarding, Modifying Cars, Anything related to electronics, Spending time with family