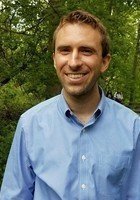 Adam
Certified Tutor
I discovered the joy of teaching and helping others when I was in school and working with classmates on the same material. I've found that the material is only part of the learning process. Attending the same classes allowed me to understand the classroom context and help classmates navigate confusing lessons as well as homework and exams. I have successfully taken on this role from elementary to graduate school. Most of the time I did not have an official position as a tutor, but I greatly enjoyed being in an optimal position to set up others for success.

I most enjoy math, probability, and statistics because they give you tools that allow you to solve technical problems all by yourself. For example, I build a tool in Excel to give me the odds that I would get a desired card from a card pool in the online card game called Hearthstone. I graduated Michigan State with a bachelor's in statistics and a Master's in Business Analytics to learn how to apply statistics to real world problems.

I have had almost all A's throughout my entire academic career. I attribute my success to more than natural ability. I've found that being willing to ask questions to classmates and teachers, putting more time and effort into subjects and lessons that are most challenging, treating each class/teacher as a separate challenge, and breaking down processes are all incredibly important. I think of a new class as a separate game that needs to be understood and respected. Having this flexibility will enable you to take the key steps that will optimize your performance.

When I consider artistic performance such as my piano playing and dancing, I see how breaking it down is helpful in a similar way. I have to spend most of the time working on the hard parts and then integrating them into the rest of the piece. In school, the performance could be solving an algebraic equation. There could be an element like factoring that is hard and open ended. Putting the most time and effort into factoring and then successfully working through the whole problem is just like perfect practice leading to a flawless performance.

Hobbies
Tennis Pickleball Ping Pong Chess Rubik's Cube Piano Dancing
Tutoring Subjects
Business
Business Analytics
College Economics
Discrete Math
GMAT Analytical Writing Assessment
GMAT Integrated Reasoning
GMAT Quantitative
GMAT Verbal
High School Economics
Programming Languages
Technology and Coding