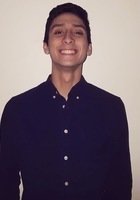 Luis
Certified Tutor
I first began tutoring during my sophomore year of high school at Phillips Exeter Academy. I began by helping students with essay editing and quickly expanded to offer algebra, biology, chemistry, geometry, pre-calc, calculus, spanish and trigonometry help. I enjoyed my time helping others out and would often help students in my dorm as well.

Years later, I discovered my passion for teaching while I worked as a teaching assistant at a non-profit organization named High Jump Chicago which provides academic opportunities to poor and minority children in the city of Chicago. I taught two of the four formats everyday for a span of 6 weeks. I was a teaching assistant for a class named Learners and Leaders where I taught kids a variety of information through harkness-style discussions, guided group work, and independent help during study hall.

I care so much about the education system and have always gone out of my way to help a student in need. I am caring, passionate about what I do, and most importantly I am very patient.

I hope to use my unique teaching style to assist anyone who requires help with the topics I offer.
Test Scores
ACT English: 30
Hobbies
Swimming, rowing crew, math team, running, watching Khan Academy videos, playing the saxophone, reading, going to concerts, attending spoken-word poetry performances, having long conversations with friends, coding, chem club, environmental committee, and volunteering at local church.
Tutoring Subjects
Adult Literacy
American Literature
Art
Basic Computer Literacy
Ceramics
College Application Essays
Conversational Spanish
High School Biology
High School English
High School Level American Literature
High School Writing
ISEE-Lower Level Mathematics Achievement
Middle School Reading
Middle School Reading Comprehension
Middle School Science
Middle School Writing
Other
SAT Subject Test in Spanish with Listening
SAT Subject Tests Prep
Spanish 1
Technology and Coding
What types of materials do you typically use during a tutoring session?
I would typically contact the student beforehand to get a clear sense on what they are struggling with and what they hope to improve on during my time with them. I would then plan accordingly and come prepared with any materials needed. Some examples of materials I would come prepared with are: a small whiteboard, books, textbooks, videos, articles, and model kits.
What strategies have you found to be most successful when you start to work with a student?
I have found that getting to know the student helps with working with them. I also like to ask the student what helps them learn. If they do not know what type of learner they are, I would give them a quick quiz to assess what type of teaching works best for them. From there, I would allow the student to explain to me what they would like to improve on throughout their time with me. These strategies are very quick, but make a huge difference in how productive the session turns out to be.
What is your teaching philosophy?
To never be impatient with a student, because I definitely did not understand everything the first time it was taught. Also, to have fun, because learning something new is amazing.
What techniques would you use to be sure that a student understands the material?
The best way to see if a student understands the material is by giving them a problem or question they have not learned yet, but has all the tools for them to figure it out on their own.
How do you adapt your tutoring to the student's needs?
I have no set tutoring style. Every student is different, so I teach every one with a unique twist/alternation.
If a student has difficulty learning a skill or concept, what would you do?
I would never give up. I would figure out different ways to teach the student, and make it my goal to make sure the student leaves the session feeling confident about the material.