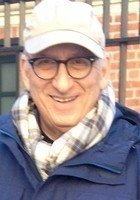 David
Certified Tutor
I have been tutoring students since 2016. My tutoring experience includes helping
- college students prepare for Quantitative & Verbal GMAT and GRE tests
- business professionals learn basic and advanced Excel, PowerPoint, MS Project y career
- 6th -12th grade students learn Math and English
- adults in project mgmt and information systems

My education includes a MBA from Wharton and B.S. Engineering from Univ of Pennsylvania

My career has been leading Information Technology departments for large companies.


Education & Certification
Undergraduate Degree: University of Pennsylvania - Bachelors, Electrical Engineering
Graduate Degree: University of Pennsylvania - Masters, Business Administration and Management
Hobbies
bridge, reading, traveling,
Tutoring Subjects
Business
Business Writing
GMAT Quantitative
GMAT Verbal
High School Business
High School Writing
MBA
Microsoft Excel
Middle School Writing
Other
Personal Finance
Productivity
Project Management/PMP
Technology and Coding
What is your teaching philosophy?
My teaching philosophy is to help students learn the fundamentals of English, Math, and Social Studies in ways that help them think about the material they read, understand the fundamentals of grammar and writing, and solve math problems.