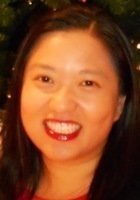 Sandy
Certified Tutor
I am Ivy League educated and have the tools to help students achieve academic success. I am committed to education and inspiring students to achieve a lifelong love of learning and confidence from realizing they can achieve their goals.
Test Scores
SAT Composite (1600 scale): 1500
SAT Math: 800
SAT Verbal: 700
Hobbies
reading, traveling, kickboxing, running
Tutoring Subjects
Business
Elementary School
Elementary School Math
High School Business
High School Writing
Middle School Reading
Middle School Reading Comprehension
Middle School Writing
Other
What is your teaching philosophy?
Individualize material and approach for each student.
What might you do in a typical first session with a student?
Introduce ourselves, and go over our preferences and styles.
How can you help a student become an independent learner?
Teach him to learn critical thinking and enjoy learning.
How would you help a student stay motivated?
Break down the activity into smaller goals.
How do you help students who are struggling with reading comprehension?
Discuss the reading passage together, and work through any questions.
What strategies have you found to be most successful when you start to work with a student?
Get a good rapport with each other.
How would you help a student get excited/engaged with a subject that they are struggling in?
Apply the subject to something he is interested in.
What techniques would you use to be sure that a student understands the material?
Ask the student to apply the material and teach someone else what he's learned.
How do you build a student's confidence in a subject?
Repeat activities until it becomes more natural.
How do you evaluate a student's needs?
Practice questions and various activities.
How do you adapt your tutoring to the student's needs?
Use skills and activities based on the student's interests and strengths/weaknesses.
What types of materials do you typically use during a tutoring session?
Problem sets, games, and creating problems together.