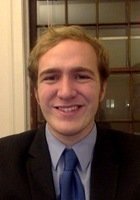 Hans
Certified Tutor
Hi, my name is Hans and I am a recent graduate of Northwestern University in Chicago. While there, I majored in Economics and minored in International Studies with a focus in International Political Economy and Development. Beyond these classes, I also had a healthy, eclectic interest in a wide range of subject areas including Multivariable Calculus, Physics, and Film. It is also worth noting that I was able to accomplish all of this in three years, rather than four, due to my focus and success on AP tests.

As for my specific tutoring experience, I have been teaching students since high school, and volunteering with local children of lower socioeconomic status for the past three years. These lessons have been for students of all ages ranging from elementary school to college. In high school I also excelled on the SAT (2220) and a plethora of AP tests (4s and 5s across the board), and so would be happy to aid with any test prep you may need.

I am a very amicable person, and truly think that I could have a successful tutoring relationship with virtually anyone. I am happy to speak with you more prior to a lesson should you have any questions regarding my qualifications and/or character. Thank you for your time and I hope to work with you soon!


Test Scores
SAT Composite (1600 scale): 1520
SAT Math: 750
SAT Verbal: 750
SAT Writing: 720
Hobbies
Reading, Sailing, Astronomy, Music, and Art
Tutoring Subjects
AP Economics
Business
College Economics
College English
Elementary School Math
Financial Accounting
High School Business
High School Economics
High School English
Homework Support
Other
Study Skills
Study Skills and Organization
Summer