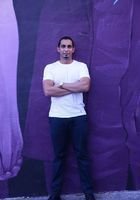 Gaurav
Certified Tutor
I am a law student, but I took an unusual route to get there. I used to attend medical school but had a change of heart in my career path. Part of this was due to my political science major (double major with biology) in college as well as a number of Spanish and other courses that I took. Tutoring is something, I feel, that has come naturally to me, even back to my high school days. My goal is to help you learn as much as you can and reach your true potential. I will work hard to make sure that this happens, as long as you put in the work, too! We will work together to tailor your learning experience to your needs.
Education & Certification
Undergraduate Degree: University of Miami - Bachelors, Biology and Political Science
Graduate Degree: University of Miami School of Medicine - Current Grad Student, MD
Test Scores
SAT Composite (1600 scale): 1570
SAT Math: 780
SAT Verbal: 740
SAT Writing: 800
GRE Verbal: 166
SAT Mathematics Level 2: 780
SAT Subject Test in World History: 740
SAT Subject Test in Biology E/M: 770
GRE Analytical Writing: 5.5
MCAT Verbal Reasoning: 11
Tutoring Subjects
Adult Literacy
American Literature
Anatomy & Physiology
Ancient and Medieval Heritage
AP Comparative Government and Politics
AP English Literature and Composition
AP Research
Audition Prep
Basic Computer Literacy
Business
Business Ethics
Business Writing
Cardiology
Cell Biology
Chemical Engineering
Civics
Civil Procedure
CLEP Prep
CLEP American Government
CLEP Biology
CLEP Chemistry
CLEP College Algebra
CLEP College Mathematics
College Application Essays
College Biology
College English
College Level American History
College Level American Literature
College Math
College Political Science
College World History
MCAT Critical Analysis and Reasoning Skills
Developmental Biology
Elementary School
Elementary School Math
Elementary School Reading
Elementary School Science
Elementary School Writing
Emergency Medicine
Endocrinology
Epidemiology
Ethics
Evolutionary Biology
Fiction Writing
Gastroenterology
GED Math
GED Reasoning Through Language Arts
GED Science
GED Social Studies
General Chemistry
GRE Subject Test in Biology
GRE Subject Tests
Health Care Policy
High School Biology
High School Chemistry
High School Economics
High School English
High School Geography
High School Level American History
High School Level American Literature
High School Political Science
High School World History
High School Writing
Homework Support
HSPT Language Skills
IB Biology
IB Mathematics: Analysis and Approaches
IB Mathematics: Applications and Interpretation
IB Sports, Exercise and Health Science
Law
Life Sciences
Medical Ethics
Medical Terminology
Medicine
Microsoft Excel
Microsoft Office
Middle School Reading
Middle School Reading Comprehension
Middle School Science
Middle School Writing
Molecular Biology
Molecular Genetics
Nursing
Other
PCAT
PCAT Biology
PCAT Chemistry
PCAT Quantitative Ability
PCAT Reading Comprehension
PCAT Verbal Ability
PCAT Writing
Political Science
Public Health
SAT Subject Test in Biology E/M
SAT Subject Test in Mathematics Level 1
SAT Subject Test in Mathematics Level 2
SAT Subject Test in Spanish with Listening
SAT Subject Test in United States History
SAT Subject Tests Prep
SAT Verbal
Social Sciences
Spanish 1
Study Skills
Study Skills and Organization
Summer
Technology and Coding
Tort Law
US Constitutional History
World Civilization
World Literature
What is your teaching philosophy?
I am here to help students learn what to do to succeed, not to guide their hands for them.
What might you do in a typical first session with a student?
We will go over what the student knows are his or her strengths and weaknesses, what their goals are, how we will achieve those goals, and what our timeline will be.
How can you help a student become an independent learner?
I will encourage them to study on their own and prepare at least a few questions for me for each session so that they can take charge of their own success.
How would you help a student stay motivated?
Positive encouragement always helps keep students motivated.
If a student has difficulty learning a skill or concept, what would you do?
I would reframe the concept in a different way and adapt the material to the student's specific needs.
How do you help students who are struggling with reading comprehension?
I would encourage practice and would also sit down to go over individual questions.