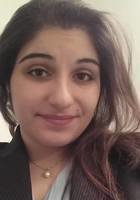 Nikki
Certified Tutor
I am a senior in the Mechanical Engineering Department at Eastern Michigan University, and I have been tutoring for about five years, from middle school to early college age students. My hobbies are painting/drawing, playing piano and guitar, and playing with my pet rats and my cat!
Test Scores
ACT Composite: 32
ACT English: 30
ACT Math: 36
ACT Reading: 32
Hobbies
Animals, Music, Playing piano and Guitar, Art, Math and Reading
Tutoring Subjects
10th Grade
10th Grade Math
10th Grade Reading
10th Grade Writing
11th Grade
11th Grade Math
11th Grade Reading
11th Grade Writing
12th Grade
12th Grade Math
12th Grade Reading
12th Grade Writing
1st Grade
1st Grade Math
1st Grade Reading
1st Grade Writing
2nd Grade
2nd Grade Math
2nd Grade Reading
2nd Grade Writing
3rd Grade
3rd Grade Math
3rd Grade Reading
3rd Grade Science
3rd Grade Writing
4th Grade
4th Grade Math
4th Grade Reading
4th Grade Science
4th Grade Writing
5th Grade
5th Grade Math
5th Grade Reading
5th Grade Science
5th Grade Writing
6th Grade
6th Grade Math
6th Grade Reading
6th Grade Science
6th Grade Writing
7th Grade
7th Grade Math
7th Grade Reading
7th Grade Science
7th Grade Writing
8th Grade
8th Grade Math
8th Grade Reading
8th Grade Science
8th Grade Writing
9th Grade
9th Grade Math
9th Grade Reading
9th Grade Writing
Adult Literacy
AP
AP Music Theory
AP Studio Art
Applied Mathematics
Art History
Comparative Literature
Drawing
Elementary Algebra
Elementary School
Elementary School Math
Elementary School Reading
Elementary School Science
Elementary School Writing
Engineering
High School
High School Chemistry
High School English
High School Writing
Homework Support
Introduction to Fiction
Introduction to Poetry
Mechanical Engineering
Medieval Literature
Middle School Reading
Middle School Science
Middle School Writing
Music Theory
Other
Painting
Persuasive Writing
Piano
Poetry Writing
Printmaking
Statics
Study Skills
Study Skills and Organization
Summer
Technical Writing
Vocabulary
What is your teaching philosophy?
I strive to work with every one of my students to build on their knowledge of topics, so that they have a full understanding of whatever subject we are working on. I use various teaching methods to ensure that my students learn the subject completely.
What might you do in a typical first session with a student?
In a typical first session, I will cover some basic materials with the students, leading up to more complex subjects, to get an idea of where they are in their current knowledge. Then, I will build on the foundation that they currently have in the next sessions.
How can you help a student become an independent learner?
I will teach my students important skills to help them study on their own, so that they can continue to learn even when I am not around.
How would you help a student stay motivated?
I would use different learning materials until I found something that interested them. For example, I would use models, or visuals instead of lectures for some students, and vice versa.
If a student has difficulty learning a skill or concept, what would you do?
Try a different approach in explaining it to them.
How do you help students who are struggling with reading comprehension?
Practice reading a lot of material, and going over it together. I especially like to have students read out-loud.
How would you help a student get excited/engaged with a subject that they are struggling in?
I approach subjects very enthusiastically myself, which often helps students get excited. I also use snacks sometimes, or educational games.
What techniques would you use to be sure that a student understands the material?
I would have the students work out problems and explain, step-by-step, what they are doing. This way, I can follow along and make sure that they understand the logic behind the answer.
How do you build a student's confidence in a subject?
I provide praise and acknowledgment when my students excel in a subject, and help them with constructive comments when they are struggling. I also remain positive myself, which helps them keep a positive attitude.
How do you evaluate a student's needs?
I use worksheets and practice problems, as well as just through conversation. I sit down with my students and ask them what they think they are doing well in and what they feel they are struggling in.
How do you adapt your tutoring to the student's needs?
I typically combine lecture with practice problems, and sometimes even additional problems for the student to work on when I am gone. If a student is responding well to something, I will do more of that. If a student dislikes something I am doing, for example, lecturing, I will do less of that.
What types of materials do you typically use during a tutoring session?
Depending on the subject, I will typically get a textbook and a workbook with problems. I also sometimes use games to build cognitive functions.
What strategies have you found to be most successful when you start to work with a student?
I have found that working through actual problems tends to be the most successful with students.