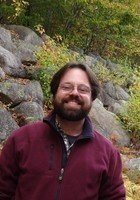 Eric
Certified Tutor
My reason for tutoring stems from my passion for learning and the desire to communicate what I've found in a way that my students will not only understand, but enjoy. This passion has led me to have a strong command of the English language in all its forms, including the reading of literature and poetry, writing academic essays, a knowledge of grammar, and other linguistic elements such as phonetics to help with teaching pronunciation. Professionally, I've been an English educator for the past 6 years, teaching everything from beginning ESL to college-level argumentative writing. My students have ranged in age from middle school students to adults. My credentials include being a certified ESL instructor, a trained and experienced middle/high school language arts professional, and an adjunct professor of writing at Southern Connecticut State University.
Test Scores
GRE Verbal: 164
Hobbies
In addition to reading and writing, I enjoy watching movies and tv. Also, I love traveling! I've lived in two foreign countries so far: Lesotho and South Korea!
Tutoring Subjects
College English
Comparative Literature
High School English
Introduction to Poetry
What is your teaching philosophy?
My philosophy of teaching is that students learn best when they can link what they need to know with what they already know. I strive to help my students realize that they have the ability to master the skills they need for success by helping them build on the talents they innately possess.
What might you do in a typical first session with a student?
A typical first session would include discussing the student's reasons for needing a tutor because that will form the basis for how we proceed.
How can you help a student become an independent learner?
The way to become an independent learner is by sparking the student's curiosity in whatever topics they find interesting until they get in the habit of pursuing deeper knowledge on their own.
How would you help a student stay motivated?
The best way to stay motivated is to keep track of the progress that they've already made so they can see how far they've come. Also, candy!
If a student has difficulty learning a skill or concept, what would you do?
When some things prove more difficult, it's time to take a step back and pivot to related, familiar topics so that the student can work on their grasp of the new material subconsciously. When we return to the new topic, they may be able to see it in a new, clearer way.
How do you help students who are struggling with reading comprehension?
The way to move forward in this scenario is to start with the basics: what is the main idea? Asking the student what they think is keeping them from understanding the text is equally important. Doing these things gives us the way forward.
What strategies have you found to be most successful when you start to work with a student?
The best strategy is to be as student-centered as possible. Asking the student about what they like, how they feel about their subject, and how confident they feel about their abilities are ways to start off on the right foot.