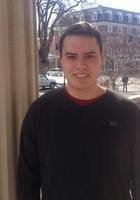 Gray
Certified Tutor
I'm a former student at Dartmouth College who teaches the SAT, English, Computer Science, IB diploma classes, and more. I particularly like editing essays. Currently, I'm working towards a Bachelor's degree in Finance at Portland Community College. I have been a formal and informal tutor over the last eight years. My philosophy is that there are always a couple of simple, crucial keys to success in any subject, and I'm looking to pass what I've learned over the years to students. I'm into politics (I'm a former government major), sports (especially basketball), video games, and reading. I have a good sense of humor and I get along well with just about anyone. I can't wait to meet you!
Test Scores
SAT Composite (1600 scale): 1590
SAT Math: 800
SAT Verbal: 770
SAT Writing: 800
SAT Subject Test in Literature: 730
SAT Subject Test in U.S. History: 710
Hobbies
Reading, sports, politics, video games, and foodie culture.
Tutoring Subjects
College English
Comparative Literature
High School English
JavaScript
Ruby
Social Sciences
Technology and Coding
What is your teaching philosophy?
There are always a few simple areas of focus that can make a huge difference...if you know what they are! Use my experience so that you can skip right to the front of the knowledge line.