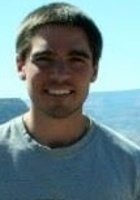 Andrew
Certified Tutor
I have a Bachelors of Science degree in Biochemistry from Georgia Tech that I obtained in Fall 2010. I started tutoring in high school by working while tutoring kids k-12. I worked as a Teaching Assistant (TA) at Georgia Tech in 2010 for the General Chemistry department. As a TA, I taught the General Chemistry Lab and Gen Chem Recitation which included covering homework and concepts that were discussed in lecture. My specialties are General Chemistry, Organic & Inorganic Chemistry, Physical Chemistry, Physics, and Biochemistry.

I am easy-going and patient. I know that learning a tough concept can take practice, and that everyone has a different way of learning. I try to make learning fun and interactive so the student can work their way through exercises on their own.
Hobbies
In my free time I enjoy biking, camping, fishing, playing guitar, and cooking.
Tutoring Subjects
College Biology
College Chemistry
COMPASS Mathematics
Elementary School Math
High School Biology
High School Chemistry
Honors Chemistry
Life Sciences
Middle School Science
Physical Science