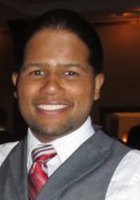 Melvin
Certified Tutor
In 2011 I graduated from Columbia University with a BA in Visual Arts and Pre-Medical Studies. Coming from an underprivileged background, I could never imagine this being a possibility, but because of the support and encouragement of many of my teachers, I was able to see the potential they saw in me. They showed me that learning can be pleasurable and that success comes with determination where theres a will there is a way. I aspire to one day be a pediatrician. I want to not only provide help to children in need, but serve as an example to my community.
During my undergraduate experience, I tutored Physics and Calculus both during summer sessions and during the academic year. I have tutored in groups and individually. I have previous experience tutoring various levels of different sciences, math, and Spanish.
I think learning should always be fun and enjoyable! When it comes to tutoring, I always try to engage the student in the problem as much as possible by presenting the subject matter in various ways. Ill relate problems to tangible real life situations so that it is easier to understand. By teaching students to draw pictures, highlight important information, and memorize catchy and easy to remember phrases, I feel that my students have benefited from my teaching style.
I make it a point to make sure the student truly understands the questions presented and that theyre not just memorizing a series of steps without comprehension. I ask them many questions when tackling a problem, stressing that Im there to fill in the blanks and help them improve in the subject Im not there to give out the answers. In my opinion the most important thing about tutoring is to be as encouraging and patient as possible. I tell my students to always stay positive and not to be clouded by frustration.
I love tutoring; it fills me up with joy when Ive made learning easier for someone else.