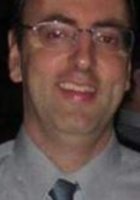 Jerry
Certified Tutor
I am passionate about STEM (science, technology, engineering, and math) subjects and how they relate to the real world and everyday life. I have taught several Varsity Tutor virtual school day camps (Hands-On Home Science Lab and Super Cool Structures classes) to groups both large and small.
The classes I taught had several, hands-on fun projects including the science behind them (Newton's law of forces and motion, mechanical engineering, earth science, structural engineering, and some chemistry).

I have a bachelor's of science in Mechanical Engineering from the University of Buffalo. I have worked for over 19 years as an engineer for a small manufacture of industrial equipment (pumps, heaters, condensers) for the Oil and Gas industries.
I welcome any new STEM teaching and tutoring opportunities. Thanks!
Education & Certification
Undergraduate Degree: SUNY College at Buffalo - Bachelor of Science, Mechanical Engineering
Hobbies
Biking, woodworking, fishing, kayaking, paddle-boarding, volunteering
Tutoring Subjects
College Math
College Physics
Elementary School Science
FE Exam - Professional Licensed Engineer Fundamentals of Engineering Exam
High School Physics
Mechanical Engineering
Microsoft Excel
Microsoft Office
Middle School Science
Professional Certifications
Technology and Coding
Thermochemistry
Thermodynamics