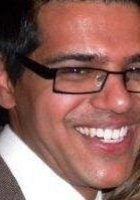 Sam
Certified Tutor
I've worked at The White House, on Wall Street, and run my own tech start-up for 3 years, and I will help you achieve your goals!

I overcame a significant learning disability to graduate high school at 16, publish original scientific research in major international journals, and went on to graduate from Oxford University, the London School of Economics, and Rice University. My original writing has been published in The Guardian and Le Monde, two of the largest newspapers in the United Kingdom and France, respectively.

I have 10+ years of experience teaching higher mathematics, computer science, and the SAT, ACT, GMAT, GRE, SAT II, IB, and AP exams (including SAT Math IIC, AP Calculus, AP Computer Science, AP Biology, AP U.S. and European History, AP Art History, and a wide variety of other fields).




I've made perfect or near perfect scores on every standardized test I teach, beginning from when I made perfect scores on SAT I Writing, Verbal, SAT II Math IIC when I was 15.

It is not at all uncommon for my students to achieve scores like these, increasing by 10 percentile points or more after only a few lessons. My approach is the opposite of "one-size-fits-all."

We will develop a customized syllabus together after your first diagnostic test, and I will be data-driven in pursuit of improving your score until we achieve your goals. Fully over 90% of the students I've taught have gained admission to their top choice schools, graduate school, or one of the most selective universities in the US.

Outside of this work, I have also been fortunate to start a tech company, intern for The White House Chief of Staff when President Obama was first elected, and work in medical research, where I've also been fortunate to publish peer-reviewed articles on predicting Diabetes-risk in young children.

Let me know how I can help you achieve your ambitions, higher education-related or otherwise. I'm excited to work with you.
Education & Certification
Undergraduate Degree: Rice University - Bachelor in Arts, Economics
Graduate Degree: University of Oxford - Master of Science, History
Test Scores
SAT Verbal: 800
SAT Writing: 800
Hobbies
Travel, reading and literature, music, history, cooking, investing, the outdoors, spirituality
Tutoring Subjects
ACCUPLACER Arithmetic
ACCUPLACER College-Level Math
ACCUPLACER Elementary Algebra
ACCUPLACER ESL
ACCUPLACER ESL - Listening
ACCUPLACER ESL - Reading Skills
ACCUPLACER ESL - Sentence Meaning
ACCUPLACER Language Use
ACCUPLACER Reading Comprehension
ACCUPLACER Sentence Skills
ACCUPLACER WritePlacer
Advertising
African History
African-American History
Anatomy & Physiology
Ancient and Medieval Heritage
AP Computer Science A
AP English Language and Composition
AP Physics C: Electricity and Magnetism
AP Physics C: Mechanics
AP US History
Applied Mathematics
Art History
British Literature
Business
Business Enterprise
Civics
College Math
Comparative Literature
Expository Writing
GED Math
GED Reasoning Through Language Arts
GED Science
GMAT Analytical Writing Assessment
GMAT Integrated Reasoning
GMAT Quantitative
GMAT Verbal
GRE Subject Test in Biochemistry, Cell and Molecular Biology
GRE Subject Test in Biology
GRE Subject Test in Chemistry
GRE Subject Test in Literature in English
GRE Subject Test in Mathematics
GRE Subject Test in Physics
GRE Subject Test in Psychology
GRE Subject Tests
High School English
High School Writing
History of Architecture
Human Geography
Intermediate Accounting
Introduction to Fiction
Introduction to Poetry
ISEE-Upper Level Mathematics Achievement
ISEE-Upper Level Quantitative Reasoning
ISEE-Upper Level Reading Comprehension
ISEE-Upper Level Verbal Reasoning
ISEE-Upper Level Writing
Journalism
Other
Personal Finance
Probability
Quantitative Reasoning
SAT Subject Test in Mathematics Level 1
SAT Subject Test in Mathematics Level 2
SAT Subject Test in United States History
SAT Subject Test in World History
SAT Subject Tests Prep
Social Sciences
Technology and Coding
US Constitutional History
World Civilization
World Literature