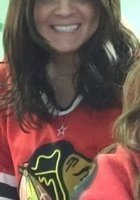 Diane
Certified Tutor
I love to learn and expand my knowledge. I enjoy the history channel and documentaries.
Hobbies
Music, Singing, Dancing and growing organic plants in my backyard.
Tutoring Subjects
AP Studio Art: 2-D Design
AP Studio Art: Drawing
Art
College Chemistry
Conversational Italian
Elementary School Science
High School Biology
Middle School Science
Other
Social Sciences
How can you help a student become an independent learner?
Give them more positive encouragement.
How would you help a student stay motivated?
I would keep using positive vocabulary words and keep my energy up.
If a student has difficulty learning a skill or concept, what would you do?
I would try teaching it a different way.
How do you help students who are struggling with reading comprehension?
I would start with three-word sentences.
What strategies have you found to be most successful when you start to work with a student?
Being positive and upbeat.
How would you help a student get excited/engaged with a subject that they are struggling in?
I would explain it to them in a way they would be interested.
What techniques would you use to be sure that a student understands the material?
I would have them repeat it back to me or ask them in a different way.
How do you build a student's confidence in a subject?
I would tell them how good they are doing. Positive reinforcement.
How do you evaluate a student's needs?
I listen to them.
How do you adapt your tutoring to the student's needs?
I learn their learning style quickly and talk with the parents briefly too.
What types of materials do you typically use during a tutoring session?
I use paper and pencil.
What is your teaching philosophy?
I believe in inspiring a passion for lifetime learning into my students. One way I inspire this passion is by being a model lifetime learner for my students. I believe in teaching students with dignity, and in providing a fun, student-centered learning environment. I make sure that every child knows that they are worthy, by listening to and caring for their needs.