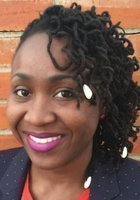 Zeliya
Certified Tutor
I am a native French speaker and hold an MBA from the University of Texas at Arlington. I consider myself an International fanatic as I have lived on 3 different continents and in 7 countries in the last 10 years! My passion is to help people get better at achieving their goal. If your goal is to get better and feel more confident in French, I will work with you to make it happen. As a native speaker who learned a second language, I do understand the frustrations that come with learning a new language - especially French because it has many rules. One thing I can guarantee is that you will learn in a fun, effective, and supportive environment!

I love reading books and biographies, dancing (I take different classes including African Dance!), and trying out new food. I also love desserts like creme brle and oftentimes visit the Chocolate Secret store in Oak Lawn. If you would like to surround yourself with positivity and learn French in the process, contact me! Learning French is fun!! Merci et a bientt!

Hobbies
Reading, Dancing, Traveling, Movies, Scooter rides, Restaurants, Desserts
What is your teaching philosophy?
I listen to my students in order to better understand them and help them reach their goals. My teaching style is tough, but fun!
What might you do in a typical first session with a student?
Assess their level and needs and come up with a plan to reach their goals.
How can you help a student become an independent learner?
Motivating and encouraging my students, and getting them believing in their abilities, will help them become independent learners.
How would you help a student stay motivated?
I will help a student stay motivated by providing positive feedback and helping them look at the positive side of things-- even negative situations.
If a student has difficulty learning a skill or concept, what would you do?
I will be patient and use simpler examples or analogies to help them understand.
How do you help students who are struggling with reading comprehension?
Read the specific text with them and discuss our understanding based on certain words.
What strategies have you found to be most successful when you start to work with a student?
Listening and getting to know the student has worked, because I was able to understand their goal in order to help them reach it.
How would you help a student get excited/engaged with a subject that they are struggling in?
Understand that it is a struggle for them and not just assume it is easy; then suggest ways to see things in a different perspective; incorporate fun learning activities based on the student's interests.
What techniques would you use to be sure that a student understands the material?
Have discussion on their understanding, practice tests, and flash cards.
How do you build a student's confidence in a subject?
Understand their frustration in the subject; evaluate their goals and explain the benefit of understanding that subject. A lot of times, when people don't understand the "why," that's where the frustration is coming from.
How do you evaluate a student's needs?
By asking them questions and listening to their answers.
How do you adapt your tutoring to the student's needs?
My plan for each student is based on their needs; therefore, depending on their level, the plan will be different.
What types of materials do you typically use during a tutoring session?
Grammar books, free apps, videos, music...