Private In-Home and Online Trigonometry Tutoring in Youngstown, OH
Receive personally tailored Trigonometry lessons from exceptional tutors in a one-on-one setting. We help you connect with in-home and online tutoring that offers flexible scheduling and your choice of locations.
100% Tutor Satisfaction Guarantee
At Varsity Tutors, we're committed to connecting you to top tutors capable of delivering an outstanding experience. That's why we provide a 100% tutor satisfaction guarantee.
How can Trigonometry tutoring help you succeed?
Trigonometry is an area of math that focuses on the angles and sides of triangles, allowing us to apply this knowledge to astronomy, art, sports, and more. If you can develop a strong understanding of trigonometric concepts, you can have a much easier time working with calculus, logarithms, and complex numbers. Intuitive trigonometry allows you to view the world around you in a different way, quickly calculating taxes, sales percentages, and so much more. You need to thoroughly explore each of the concepts until you understand them before you can apply them to anything, whether you want to solve inverse trigonometric functions or spherical angles. One-on-one studies can be a great resource to support your educational goals and needs. Let Varsity Tutors' educational directors find you a trigonometry tutor in Youngstown, Ohio, who encourages you to always keep growing.
Our directors will match you with an excellent trigonometry tutor in Youngstown who might help you to meet your academic and test score goals. Your tutor is hand-selected based on their experience and suitability towards teaching to your needs. They will consider your personal learning style, study habits, proficiency, schedule, and many other factors that play a role in your tutoring needs.
4.9/5.0 Satisfaction Rating!* Private tutoring by top Case Western grads.
Session Summaries by Trigonometry Tutors
"Today was our first session together, so we started with introductions, and I asked the student about her place in the course right now. After getting a sense of the topics they are currently learning, we went straight to work on the exponential and logarithmic functions. We started by reviewing some of the algebraic properties of logarithms, and used them to solve some examples on one of her most recent quizzes. Next we covered properties of the graphs of both the logarithm and exponential functions. This review included talk of the domain, range, asymptotic behavior, and both x and y intercepts. We wrapped up the session with the student graphing one function of each type. When we first started, she said she was confused on how to graph these types of functions, but by the end she was able to produce the graphs with little to no extra help. "
"We covered both chapters 12 and 9 of the student's book. In the future we'll cover chapter 0. For now, he seems to understand chapters 12 and 9 well. The first one covered trigonometric functions (sine, cosine, etc.), graphing, amplitude, and frequency. The second one involved midpoint formula, distance formula, and conic sections (parabola, circle, ellipse, and hyperbola). According to his father, the student has shown improvement in his understanding of concepts. His homework performance has been great lately. I think that his handwriting is also improving, and this is important."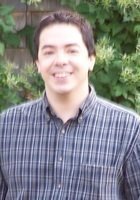 "The topics we went over consisted of the utilization of half-angle and double angle formulas, sum-to-product and product-to-sum formulas, inverse trig functions, solving trigonometric equations, interpretation of the unit circle, and methods of solving such equations. Overall, the student did really well with her reception to my instruction and she seemed to understand the material quite well. My goal in the future is to be able to get her to gain confidence in her abilities. I have high hopes for her. "