Mandarin Chinese Tutoring
Private In-Home and Online Mandarin Chinese Tutoring in Washington DC
Receive personally tailored Mandarin Chinese lessons from exceptional tutors in a one-on-one setting. We help you connect with in-home and online tutoring that offers flexible scheduling and your choice of locations.
100% Tutor Satisfaction Guarantee
At Varsity Tutors, we're committed to connecting you to top tutors capable of delivering an outstanding experience. That's why we provide a 100% tutor satisfaction guarantee.
How can Mandarin Chinese tutoring help you?
Varsity Tutors can assist professionals and students of all skill levels in connecting with a private Washington DC Chinese tutor. Whether your student is a beginner to the language or you are seeking support in maintaining your existing skills, we can find you a qualified instructor who can help you or your student remain focused throughout each study session. There is a broad range of advantages that private instruction has to offer.
What can a Washington DC Chinese tutor near me do to help me pursue my language goals?
Spoken by over one billion people around the world, Chinese is considered one of the most challenging languages to learn. There are many unique concepts that you will need to get the hang of. For instance, there is only one grammatical form in Chinese no matter whether the noun is plural or singular. Working one-on-one with a Washington DC Chinese tutor can help you navigate this difficult language as you reach for your goals.
Washington DC Chinese tutors can support you or your student through personalized instruction and guidance. A private mentor can develop a customized study plan that factors in their student's learning needs, such as their strengths and goals. Your instructor can get to know the concept areas in which you have the most room for improvement, as well as identify the topics that you are most confident in. With this information, you can spend more time on the concepts you really need for a more effective and efficient session. Your educator can even identify any gaps in your current knowledge of Chinese, allowing them to work with you to fill in those gaps. This can help you build a solid foundation upon which you can grow your fluency in the Chinese language. You can work at a pace that is comfortable for you as you get to know the Chinese characters used in writing and other important topics.
A personal instructor can bring their expertise to each lesson to help you or your student get the most out of your Washington DC Chinese tutoring sessions. They have an arsenal of teaching strategies at their disposal, allowing them to appeal to different learning styles and personalities. By tailoring their approach to suit your learning preferences, Washington DC Chinese tutors can help you interact with the information in a deeper way. For instance, if your student learns best through visual and aural techniques, their mentor can help them to get a better understanding of Chinese history and culture through videos. Your instructor can provide writing exercises that can help you improve your ability to form the Chinese characters and compose sentences.
Studying with an expert can be invaluable to your progress in the Chinese language. A personal instructor can help you or your student set motivational goals, whether you want to be able to speak the language conversationally or your student wants to feel confident during their Chinese classes.
When it comes to learning a new language, Washington DC Chinese tutoring can allow you to dedicate quality time to practicing speaking, reading, and writing in the language. A personal mentor can lead entire sessions in Chinese, allowing you to immerse yourself as you work to build your pronunciation, vocabulary, and more. This kind of immersive learning can allow you to make progress quickly, as well as help you feel more confident in your ability to communicate with other Chinese speakers.
How can I fit personalized Washington DC Chinese tutoring into my schedule?
You don't have to worry about struggling to find the time to make it to your or your student's tutoring sessions. When we help you connect with Washington DC Chinese tutors, we work hard to find someone whose availability matches your family's scheduling requirements. Private instruction is designed to be flexible enough to allow students to pursue their Chinese language goals without disrupting their life.
You can study with a Washington DC Chinese tutor online or in person. Online instruction is conducted from the Live Learning Platform, where you and your language mentor have access to a plethora of valuable features. Using video chat, you can communicate with your instructor in real-time, allowing your mentor to provide in-the-moment feedback and support as you work to build your skills and abilities. There is a shared document editor that you and your instructor can collaborate on, whether you need to practice identifying the syllable of different Chinese symbols or your student wants to work on their ability to pronounce different characters for pronouns. In addition, you have access to a collection of lesson videos from which you can review vocabulary, sentence structure, and more.
On the other hand, you or your student can choose to participate in in-person instruction. We can connect you with local Chinese mentors who can meet when and where it is most convenient for you. Whether you're more comfortable working from a nearby coffee shop, the Mt. Pleasant Library, or anywhere else, you can work with someone who can meet at your convenience.
Varsity Tutors also provides online Chinese language courses. Hosted in a virtual classroom, each course is led by an expert instructor who has a thorough understanding of the language. You can sign up for two- or four-week sessions at the beginning of every month. There are multiple sessions running concurrently, so you or your student can find a course that fits into your life.
How can I get started with a Washington DC Chinese tutor near me?
Private Washington DC Chinese tutoring can be just the thing to guide you or your student through this language learning journey. When you're ready to connect with Washington DC Chinese tutors, reach out to Varsity Tutors. We can't wait to help you in your search for a private mentor who has the skills necessary to help you in pursuit of your language learning goals. Our educational consultants are prepared to answer any questions and help you get in touch with a mentor who can accommodate your scheduling concerns.
Session Summaries by Mandarin Chinese Tutors
"Today we were reviewing the student's class material for his quiz tomorrow. He was covering greetings and introductions. We were able to clarify some of his questions in regards to grammar, and I was also able to introduce some new material that was relevant to the topic. Toward the end of the session, I gave him a review of what we covered. Based off of that, he should be ready for his quiz. "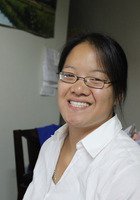 "The student was very focused today. We were able to accomplish a lot during the session and he was an active participant in his learning. First, he completed his homework through page 96. He did this independently, for the most part, with some guidance from me on understanding written Chinese sentences. Next, we spent a few minutes on his dictation words for next week. He wrote them very well, so he'll study them on his own. We spent most of the time working on the story that he needs to write for school. He came up with a plot line and I prompted him to expand the plot. Using a dictionary when he needed to, he then wrote the story in Chinese, and illustrated it."
"This is the last session before the final exam, so we tried to review everything the student learned this semester. We went over all the quizzes and tests she had. I pointed out the important grammar section she needs to review and explained to her the parts she didn't quite understand. "