From large districts in California to small communities in Maryland and Ohio, schools all across the U.S. are closing to stop the spread of COVID-19 (or coronavirus). If your child is currently in grades K-12, you may have already or might soon find yourself in the daunting position of managing your work from home arrangement with their learn from home needs. You might also be wondering what to do next.
Coronavirus, or COVID-19, will almost certainly be one of the defining childhood events for today's kids. When school closes for weeks, students are going to take notice, develop fears, and ask questions. So how can you answer those questions in a way that satisfies their curiosity without creating panic? And how can you use that curiosity as an opportunity to teach lasting lessons and encourage a love of learning?
With COVID-19 precautions forcing the cancellation and postponement of large gatherings of people, standardized tests like the ACT and SAT are finding themselves in similar situations to the NCAA Tournament and Coachella, weighing decisions to postpone or cancel certain test administrations in the name of public safety. And like most airlines and cruises, most testing agencies are relaxing their cancellation and rescheduling policies so that those concerned about coronavirus have the option to postpone their tests, penalty-free.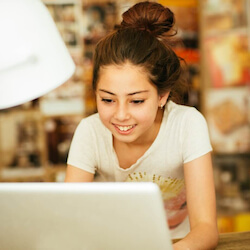 The summer is a great opportunity for students to refresh and refocus their minds in preparation for the coming school year. With all the activities (like summer camp) occupying many students' summer days, time spent reviewing previously learned content and preventing summer learning loss can fall by the wayside.
Your home is likely a place where your child feels comfortable and at ease. This type of environment is great for many reasons, but if coronavirus has prompted you to turn your house into a dedicated learning space for all or part of each day, it may be challenging for your student to stay focused and engaged. Luckily, there are a variety of things you can do to create a positive educational environment during this time.
Getting your student excited about learning outside of the classroom can, at times, be a challenge. However, introducing your student to engaging educational activities at home can inspire a passion for learning. Creative ways to make learning at home fun can involve hands-on educational activities, catering projects to your student's current interests, and incorporating educational games.
Using crafts to promote literacy can encourage your student to keep their mind active and sharp, while participating in fun and engaging activities. Crafts that encourage literacy skills include creating comic strips, incorporating theater activities, and designing menus.
STEAM is a growing movement that gears students toward innovation, problem-solving, and high-level critical thinking. Incorporating the arts into academics teaches students valuable skills, while simultaneously aiming to deepen math and science concepts in insightful and interactive ways. There are a plethora of STEAM activities to try, specifically ones involving building structures, growing plants, and exploring nature.
It's that time of year again—students are swapping their video games for textbooks and their swimsuits for classroom attire. School is in session. While you can equip your child with back-to-school supplies like notebooks, pencils, and a backpack, it's much harder to prepare for the looming threat of homework meltdowns. Last-minute study sessions and seemingly impossible homework problems can get the best of all of us—parents and students alike.
Here are five books every middle schooler should read.
Seedfolks
Written by Paul Fleischman, this young adult novel centers around themes like tolerance and the importance of fostering a strong sense of community. In Seedfolks, a community garden brings together many different people and teaches them the significance of working together to create something beautiful.