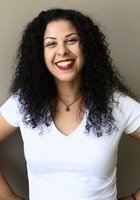 Melissa
Certified Tutor
I am extremely passionate about teaching and learning, and have been an educator for over 7yrs. I have strong critical thinking and problem solving skills, and a deep understanding of individual student's needs. I received my bachelor in Education and Child Study at Smith College in Northampton, Mass, where I learned the teaching practices needed to help students of all developmental levels.
Education & Certification
Undergraduate Degree: Smith College - Bachelor in Arts, Education
Hobbies
I wire wrap crystals and sell them online and at trade shows, I love to go hiking in the Colorado Mountains and experience all nature has to offer, and I have a precious little kitty named Bella.
Tutoring Subjects
Elementary School
Elementary School English
Elementary School Math
Elementary School Reading
Elementary School Science
Elementary School Writing
Late Elementary Reading Comprehension
Middle School English
Middle School Reading
Middle School Reading Comprehension
Middle School Science
Middle School Writing
Other