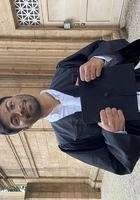 Asir
Certified Tutor
Asir has recently completed his Bachelor's degree, double majoring in Physics and Mathematics at Minerva University in San Francisco, California. He has taught A levels Physics and Mathematics and SAT mathematics to over 50 students throughout the past few years. From 2015 till 2017, he was involved with an NGO, namely, InclusionX, whose purpose was to provide basic training of computing to mentally disabled children.

Asir is currently pursuing theoretical physics research in the field of quantum information. He also has experience with researching with Wolfram Research Inc where he investigated the meaning of dimensionality.

He took the Edexcel A levels in high school and achieved either A's or A*'s in the subjects he took which are Physics, Chemistry, Mathematics, and Further Mathematics. He also got perfect scores in almost all the units of mathematics and physics. Similarly, he got perfect scores in SAT subject tests in Physics and Math (level 2).

In his spare time, Asir enjoys teaching himself to play the violin, or diving deep into the world of philosophy and politics.
Education & Certification
Undergraduate Degree: Minerva University - Bachelor of Science, Physics
Hobbies
Playing the violin, reading books on philosophy and politics, playing chess, playing football.
Tutoring Subjects
A Level Prep
A Level Mathematics
A Level Physics
Admissions
College Application Essays
College Physics
Computer Programming
Discrete Math
GCSE Prep
GCSE Mathematics
GCSE Physics
GRE Subject Test in Physics
GRE Subject Tests
High School Physics
IB Computer Science
MATLAB
Other
Productivity
Programming Languages
Quantum Physics
Technology and Coding