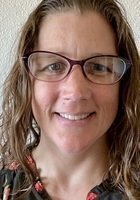 Stacey
Certified Tutor
I have a Masters Degree from Piedmont College and a Bachelors Degree from Georgia State University. Since graduation, I taught in Georgia at a Title I school for 10 years. I now live in Colorado, and have taught here for four years. I enjoy teaching reading and science, but my passion is social studies. I love to do experiments and reenactments! I know that each student is an individual, and I think about their needs as I make lessons and activities. My time with students is precious and I want to make the most of it. I hope to instill a love of life-long learning with my students because I cherish this attribute myself.
Education & Certification
Undergraduate Degree: Georgia State University - Bachelor of Science, Early Childhood Education
Graduate Degree: Piedmont College - Master of Science, Early Childhood Education
Hobbies
I love to read! One of my favorites to read is the Harry Potter series; I also love Jane Austen novels. Living in Colorado I love to run, hike, backpack, and go camping as much as I can. In the winter I transfer these hobbies into snow shoeing. I also like to nerd it up with history every chance I get.
Tutoring Subjects
College Level American History
College World History
Elementary School
Elementary School English
Elementary School Math
Elementary School Reading
Elementary School Science
Elementary School Writing
GACE - Georgia Assessments for the Certification of Educators
Middle School Social Studies
Other
PRAXIS
PRAXIS Elementary School
Professional Certifications