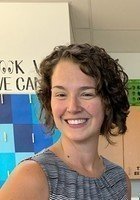 Dana
Certified Tutor
Hello! I have been a Social Studies teacher for 8 years in Boulder, Colorado. I have taught almost every content class at every level between 6th and 8th grade. As a student, I always loved school so I have a lot of experience with placement tests.
Test Scores
AP English Literature: 4
AP English Language: 5
AP European History: 4
Hobbies
I love to read, knit, bike, garden, and cook. I have two young kids and I can't wait to get a dog again!
Tutoring Subjects
GED Social Studies
High School Government
Middle School Social Studies
PRAXIS
PRAXIS Social Studies
Professional Certifications