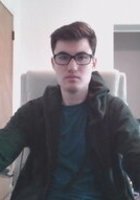 Samuel
Certified Tutor
I am a recent graduate from New Mexico Tech. I have a bachelor's in electrical engineering and a minor in math. I can tutor math, programming, and HS english.

The core of my teaching philosophy is that THE CLIENT IS ALWAYS RIGHT. In practice, this means that in terms of teaching style, pace, learning goals, etc, the ball is in the client's court.

As a tutor, my job is to mold my teaching style to match the client's learning style, and the only way to do that effectively is through communication. Therefore it's important that I'm friendly and accessible, and that I periodically check in with the client to make sure we're on the same page.




Hobbies
I'm an amateur musician (piano, guitar). When I'm bored I like to throw cards.
Tutoring Subjects
C
Computer Programming
Java
Programming Languages
Technology and Coding