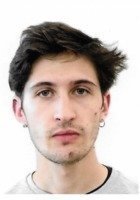 Julien
Certified Tutor
I am a French-American chemistry student at the Bristol School of Chemistry, working towards a master's degree.

I have had a French S baccalaureate education with physics / chemistry specialty, which is somewhat equivalent to IB Higher Level Math, Physics and Chemistry.

I have an international background and experience with the French baccalaureate system, English higher education system, and know the level of education English STEM professors expect from highschool graduates.

I have always been passionate about mathematics and physics, and love to approach each subject in an intuitive manner. I believe any problem can be rendered entertaining by showing the power, elegance, and history of its solution.

Even if you don't think you are passionate about these subjects, I would love to share my intuition and strategies to tackle seemingly "tough" problems and concepts, and hopefully transmit my interest along the way.

I have also tutored for the Polish Matura Advanced Maths for highschool students, which encompasses geometry, probabilities and statistics, and trigonometry.

Education & Certification
Undergraduate Degree: University of Bristol - Bachelor of Chemistry, Chemistry
Hobbies
I enjoy cooking good food and playing chess. I have played a lot of videogames, notably TF2 and Counterstrike (unhealthily, might I add). I would love to learn to dance, and I am trying to improve my programming skills in C and Python.
Tutoring Subjects
Chemistry (in French)
College Physics
High School Chemistry
High School Physics
IB Further Mathematics
IB Mathematical Studies
Math (in French)
Physics (in French)
Statistics (in French)