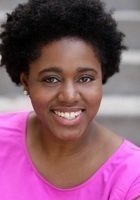 Erika
Certified Tutor
I come to tutoring with a wealth of knowledge about all things related to artistic production and secondary education. So much of what I know comes from multitasking in high pressure situations. I have learned to juggle challenges; and to make smart decisions by listening to the clients pain points (needs).
I believe knowing the why, the reason you want to learn something is as important as the amazing outcome.
Learning with me is a collaboration of important tools that open up what you want to learn. I am excited to meet you, to get to know you and to share all I have learned. I am an actor, singer, teacher, director, writer. I am a woman who cares about your growth. Let's achieve your dreams together.
Education & Certification
Undergraduate Degree: University NC School of the Arts - Bachelor in Arts, Directing and Theatrical Production
Graduate Degree: Spertus College - Master of Arts, Nonprofit Management
Hobbies
Singing, acting, writing, tutoring, mentoring, painting, directing
Tutoring Subjects
Audition Prep
Music
Singing
Vocal Training
Voice