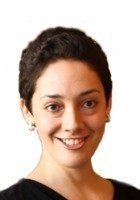 Ana Maria
Certified Tutor
I have a Doctor of Musical Arts in Violin Performance from the University of Oklahoma, a Professional Studies Diploma and Master of Music in Violin Performance and Violin Suzuki Pedagogy from the Cleveland Institute of Music, a Bachelor of Arts Degree in International Studies, and a Bachelor of Music Degree in Violin Performance, both from Bradley University. (Yes, I was in school a long time! Haha!)

My studies as a child and adult in the Suzuki Method of violin instruction have influenced my teaching by encouraging a nurturing and positive approach to education. I have had extensive teacher training in this method as well as thorough online English as a Second Language teacher training and teaching experience from the Chinese company, VIPKid.

My mother is Colombian, and my father traveled extensively throughout the world, so a love of everything international was instilled in me. I enjoy learning about other cultures and languages, and I have traveled throughout most of Europe! In addition, I was fortunate to study music and travel in Japan for almost two months and study abroad in Denmark for a full semester.

I love getting to know individuals and encouraging them in whatever their goals are in learning. I have been told that I have a special gift for teaching young children and making them laugh, but I enjoy teaching students of all ages.
Hobbies
Playing the violin, viola, traveling (before the pandemic), learning different languages, learning about other countries