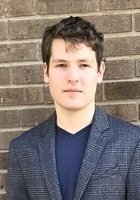 Emil
Certified Tutor
I'm an honors business economics and international studies double major with concentrations in international development, market behavior, and Russian. I've been a tennis coach and teacher for the last 4 years and love helping students understand challenging concepts and do better in school!
Education & Certification
Undergraduate Degree: Miami University-Oxford - Bachelor of Science, International Economics
Test Scores
ACT Composite: 34
ACT English: 34
ACT Math: 33
ACT Reading: 35
ACT Science: 34
AP Calculus AB: 5
AP Calculus BC: 4
AP Statistics: 5
AP English Language: 5
AP US History: 5
AP European History: 5
AP Art History: 4
AP Macroeconomics: 5
AP Microeconomics: 5
AP U.S. Government & Politics: 5
AP Psychology: 5
Hobbies
My interests include tennis, playing/listening to music, and running my own social media business!
Tutoring Subjects
ACT Aspire
ACT Residual
ACT Study Skills and Organization
ACT with Writing
Admissions
AP English Language and Composition
AP US History
Business
College Application Essays
College Economics
College English
College Political Science
Elementary School Reading
Elementary School Writing
Financial Accounting
High School English
High School Political Science
High School Writing
Microsoft Excel
Middle School English
Middle School Reading
Middle School Reading Comprehension
Middle School Writing
Music
Other
Political Science
PreACT
Productivity
Psychologies
Social Sciences
Technology and Coding
Viola