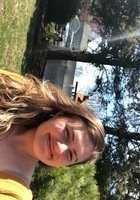 Victoria
Certified Tutor
Hello!

I am a rising junior in college at Tufts University where I am a Political Science and German Language and Culture Major. I am also an English minor, and am most comfortable tutoring English and writing topics.

I have had about two years of experience in tutoring English writing and Reading Comprehension, and I have also tutored ACT English and Reading sections as well. I have tutored students from ages 7-16, and I have enjoyed every moment I have spent while helping enthusiastic students achieve their goals!

Despite working with students of all different ages, I am quite consistent in my tutoring approach. I have found that the most progress is made, and the work is most enjoyable to the student, when the environment in which they are being tutored has a positive and comfortable atmosphere.
Therefore, I always strive to create an exceptionally positive and lively environment in which the student is encouraged to comfortably speak their mind and learn new material!


Education & Certification
Undergraduate Degree: Tufts University - Bachelor in Arts, Economics
Test Scores
ACT Composite: 31
ACT English: 34
ACT Reading: 36
Hobbies
In terms of academic hobbies, I am very interested in classic literature and works of political philosophy. Some of my favorite novels are Brave New World, Dracula, and Beyond Good and Evil! However, in my leisure time I am a huge fan of classic rock music and I adore film. I am also a huge baseball fan, and am always up to talk about the Yankees!
Tutoring Subjects
A Level Prep
A Level Philosophy
Admissions
AP English Language and Composition
AP German Language and Culture
AP US History
Business
College Application Essays
College English
College Political Science
Conversational German
Elementary School Math
German 1
German 2
German 3
High School Economics
High School English
High School Writing
Logic
Middle School English
Middle School Reading
Middle School Reading Comprehension
Middle School Writing
Other
Political Science
SAT Subject Test in German with Listening
SAT Subject Tests Prep
Social Sciences