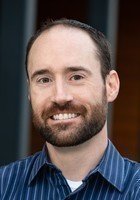 Brad
Certified Tutor
I'm an expert at ACT and SAT test prep with over 800 hours of tutoring experience. I specialize in helping students reach their target score, whether that's the 50th percentile or a prefect score. I consistently score perfects on my practice and focused tests. I have worked with students of all ages and backgrounds and am passionate about not only helping my students learn the content required for the test, but how to take the test. I find that for most students looking for scores in the 90th+ percentile, that final push is about how to take the test, not merely content. We'll spend significant time on how to take the test, not just "the 20 rules you need for ACT math." Though, we'll do that too when needed. I am particularly good at breaking down concepts that appear complex to students into simpler parts and helping them understand. One of my favorite parts of coaching test prep is watching a student have the light bulb moments that they can in fact get the score they want.

Additionally, as a tutor, it's important to me to work with the parents and in conjunction with the teacher's curriculum for the student. My success as a tutor often comes from this partnership.

Education & Certification
Undergraduate Degree: Biola University - Bachelor in Arts, Bible Studies
Graduate Degree: Denver Seminary - Master of Divinity, Theology
Hobbies
My interests and hobbies tend to range broadly. I love getting outside--going for a hike in the Colorado mountains, white water kayaking or rafting in the summer--or grabbing a good book to read at home. I also enjoy a good board game or video game with friends on occasion.