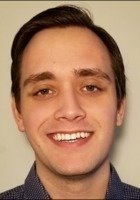 Zachary
Certified Tutor
I am a PhD candidate in Materials Science and Engineering at Cornell University with a passion for science and teaching. I have spent a LOT of time listening to professors giving really excellent lectures... and a LOT of time listening to awful lectures, so I know first-hand the extraordinary value of effective teaching! I have extensive formal teaching training, as well as teaching experience. I have worked two years as a STEM tutor, I have been the Head Graduate Teaching Assistant for three college STEM courses (where I have won awards for my teaching excellence), and I have even worked for a year training ALL the engineering TA's at Cornell on how to be the best TA's possible!

I also have a secret background in studio art, and like to let my drawing skills sneak out while tutoring in the form of super detailed visual aides to help convey the hard topics to my students. I also always do my best to maintain a light-hearted teaching atmosphere!
Education & Certification
Undergraduate Degree: Washington University in Saint Louis - Bachelor of Science, Mechanical Engineering
Graduate Degree: Cornell University - Master of Science, Materials Science
Test Scores
SAT Composite (1600 scale): 1490
SAT Math: 750
SAT Verbal: 700
GRE: 334
GRE Quantitative: 170
GRE Verbal: 164
Hobbies
I love cooking, skiing, drawing, and playing with my two kittens!
Tutoring Subjects
Art
Drawing
Engineering
High School Physics
MATLAB
Mechanical Engineering
Productivity
Statics and Dynamics
Technology and Coding
Visual Arts