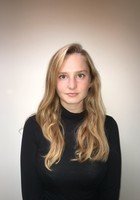 Grace
Certified Tutor
I am a senior at Providence College's Honors College where I major in finance and Spanish and minor in computer science. I have been a tutor for Varsity Tutors for three years, and have also tutored students outside of the platform. I have also worked as an investment intern, a management and acquisition research analyst, an accounting (finance) intern, and a product management intern. I tutor students in a wide variety of subjects, but I especially love tutoring students in Spanish and economics. I am passionate about learning and collaboration, and I prioritize forming an amicable bond with any student I have the pleasure of working with!
Education & Certification
Undergraduate Degree: Providence College - Bachelor of Science, Finance
Test Scores
SAT Composite (1600 scale): 1440
SAT Math: 750
Hobbies
I am interested in anything outdoors! I love trail rock climbing, hiking, and surfing. I also have a passion for music (I play the piano) and reading.
Tutoring Subjects
Business
Conversational Spanish
Financial Accounting
High School Accounting
High School Business
High School Economics
High School Writing