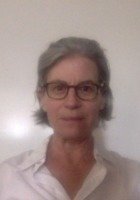 Caren
Certified Tutor
I love helping students because regardless of the subject or the student's level, I end up learning so much from them!

I taught political science to undergraduates in (face-to-face) classrooms for almost 15 years and have taught ESL and college essay writing both in face-to-face and online modes.

My BA is in Hispanic Lit (Bryn Mawr College); my MA, in Latin American Studies (School of Advanced International Studies at The Johns Hopkins University); and my PhD, in Political Science (MIT).

I can tutor political science and social studies at all levels. American Politics, Comparative Politics, and Writing are my favorite subjects. Why? Mostly because I am a die-hard, political junkie, and I am in awe of the power of the written word and how well-chosen vocabulary and syntax can be so persuasive.

My teaching philosophy is: listen to the student to understand what they need and what motivates them.

Volunteering is an important part of my life. I am co-managing a street art project that portrays the struggles of people who were formerly incarcerated or are doing alternative sentences. I also assist Brazilian students who come from poor families with their applications to US universities.

Hiking, walking my dog, traveling to deserted beaches and trails, and reading are high on my list of favorite things to do.
Hobbies
Hiking, walking my dog, reading, visiting faraway beaches and trails.
Tutoring Subjects
Admissions
Adult ESL/ELL
AP Comparative Government and Politics
College Application Essays
College Political Science
Dissertation Writing
Elementary School Math
Elementary School Reading
Elementary School Writing
High School Government
High School Level American History
High School Political Science
High School World History
High School Writing
Other
Political Science
Social Sciences
Thesis Writing