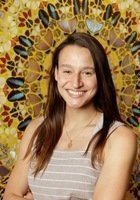 Magdalena
Certified Tutor
I graduated from the University of Chicago in 2019 with degrees in Art History and Eastern European Studies. I wrote my thesis on Ancient Mesoamerican ceramic figurines. I love to learn, but more than that, I love helping other people learn and sharing what I know.

Now, I work at an art museum. I am passionate about art, art history, and making art accessible to everyone.

I grew up in Europe, and I learned to speak English, German, and Polish all at once. Because of my background, I understand how tough English can be, even for native speakers, and I want to help others find their voice as I did.

In my spare time, I run, bike, swim, and do yoga. I love exploring, and if I didn't live in a very flat city, I would probably be hiking every weekend!
Education & Certification
Undergraduate Degree: University of Chicago - Bachelor in Arts, Art History, Criticism, and Conservation
Hobbies
I am a triathlete and I like to explore new places on my bike or by foot, which is what I spend my weekends doing. I love art history. In my free time, I watch tv shows (nothing scary, only comedy!), read novels, and hang out with my cat. I am a huge foodie and would love to know what your favorite meal is!
Tutoring Subjects
Art History
College Application Essays
Elementary School Math
Elementary School Reading
Elementary School Writing
German 1
German 2
German 3
Other
SAT Subject Test in German with Listening
SAT Subject Tests Prep