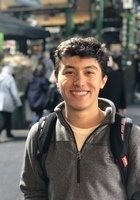 Bradley
Certified Tutor
I am a recent graduate of Miami University, where I studied both computer science and finance. I have a history of tutoring high schoolers for the ACT & SAT and college students as well. In addition, I volunteer to run a week-long, annual summer camp for a week with ~120 kids from ages 9-14, so I know how to work with children of all ages. I love to learn, but my favorite subjects are Math, English, and Science. I stand by the idea that every person learns differently, and my goal is to teach by taking advantage of that learning style. I appreciate the need for learning and the essential drive to continue to learn throughout our lives. Outside of school, I love to ski, play soccer & football, and hang out with my friends.
Education & Certification
Undergraduate Degree: Miami University - Bachelor of Science, Computer Science
Test Scores
ACT Composite: 33
ACT English: 34
ACT Math: 34
ACT Reading: 33
ACT Science: 35
SAT Math: 780
Hobbies
I love to run, play soccer and football, ski, and consider myself a life-long learner. I enjoy reading physical books and learning about new types of technology and the boundaries they push.
Tutoring Subjects
AP Computer Science A
AP Computer Science Principles
C
C#
C++
Coding
CSS
Elementary School
Elementary School English
Elementary School Science
High School Biology
High School Computer Science
High School English
HTML
Java
JavaScript
Linux
Mac Basic Computer Skills
Microsoft Excel
Microsoft Office
Middle School English
Middle School Reading
Middle School Reading Comprehension
Middle School Science
Middle School Writing
Other
SQL
Technology and Coding