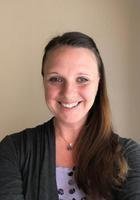 Jennifer
Certified Tutor
I believe that learning is a life-long process and a journey that looks different for everyone. I am a graduate of Elon University and obtained two degrees in the field of education. I specialize in teaching elementary education and working with special education students. I have spent the past four years homeschooling my two children, organizing and teaching in co-operative learning groups, and researching new methods in the field of education. I have five years classroom teaching experience and over 6 years experience as a one-to-one academic tutor. History is one of my favorite subjects and I thoroughly enjoyed six years traveling Europe and visiting places that I studied. I am also passionate about teaching Reading, Literature, and Elementary Mathematics. I believe that gaining a firm understanding of the fundamentals of Math, English, and Reading Skills will help a child succeed in later grades.
Education & Certification
Undergraduate Degree: Elon University - Bachelor of Education, Education
Hobbies
I love to read classic literature, study history, hike in nature, play board games, travel, and spend time with my family.
Tutoring Subjects
Elementary School
Elementary School Math
Elementary School Reading
Elementary School Writing
Executive Functioning
Learning Differences
Middle School Reading
Middle School Reading Comprehension
Other