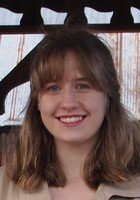 Anika
Certified Tutor
I graduated from Bellevue College at the age of 18 with an Associate's in Science in physics, engineering and atmospheric sciences. I also received a full-ride scholarship to study physics at the University of Washington in 2019 and a research grant to study electrical and computer engineering under Commander Robert Bruninga and Dr. Jin S. Kang at the United States Naval Academy in 2017. I have been tutoring my high school peers math and physics consistently for about 3 years now as well as more recently college students, middle school students and elementary school students. I began tutoring due to my friends asking for help since I was always a couple of years ahead of them in math and physics. I usually managed to increase their overall letter grades by about one letter grade per month. I enjoy teaching because explaining seemingly complicated topics in extremely simple to understand ways has always been one of my fortes. One of my personal beliefs in regards to teaching, is that it is imperative to study for understanding, not memorization. This directly correlates to my teaching style where I connect the learning technique of the student (visual, linguistic, auditory, logical, etc.) and their personal interests with applicable analogies and metaphors to math and physics. I tutor mainly math and physics subjects ranging from kindergarten to 300 level university courses such as multi-variable calculus, differential equations, quantum physics, electric circuits and more. In my free time I like to create math-based algorithmic music, play piano, read scientific studies and farm vegetables.
Education & Certification
Undergraduate Degree: Bellevue College - Associate in Science, Engineering Physics
Test Scores
SAT Writing: 700
Hobbies
Some of my hobbies include building Arduino based circuits, fixing electrical circuits, playing 7 instruments, singing, composing music, reading about neuroscience, optimal farming techniques, psychological operations, geopolitics and creating new physics equations to describe atmospheric motions. I also like to draw and make memes.
Tutoring Subjects
ACCUPLACER Arithmetic
ACCUPLACER Elementary Algebra
CLEP Prep
CLEP Calculus
CLEP College Algebra
CLEP College Mathematics
CLEP Precalculus
College Application Essays
College English
College Math
College Physics
COMPASS Mathematics
Elementary School Math
Executive Functioning
GCSE Prep
GCSE Mathematics
GED Math
GRE Subject Test in Mathematics
GRE Subject Tests
Guitar
High School English
High School Physics
High School Writing
Hungarian
IB Further Mathematics
Learning Differences
Music
Other
Piano
SAT Subject Tests Prep
Social Sciences
Special Relativity
Spelling Bee
Study Skills
Study Skills and Organization
Thermodynamics