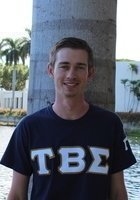 Hayden
Certified Tutor
Hello! My name is Hayden Seager and I'm a junior electrical engineering major at the University of Miami. I am passionate about math and physics, which are subjects people typically love or despise. No matter which person you are, I'm sure I can help you see why we learn what we learn, not just what.

My previous tutoring experience includes working at the Camner Center for Academic Resources at the University of Miami where I tutored college age students in Calculus, Physics, and Engineering, as well as tutoring local family friends for the past 5 years.

Other than engineering, math, and physics, I am very passionate about music. In the 7th grade started playing the trumpet and haven't stopped since. I joined the University of Miami Marching and Pep bands which has greatly influenced who am I and about what I'm passionate. I've recently started to pick up the guitar and I must say it's difficult.

I think that tutoring is about showing students why something is meaningful, and not just memorizing an equation. If tutored by me, students will understand the core ideas behind every topic rather than how to solve this specific problem, so hopefully, when there is a problem they haven't seen before, they will know where to start.
Education & Certification
Undergraduate Degree: University of Miami - Bachelor of Engineering, Electrical Engineering
Test Scores
AP Calculus BC: 4
AP Statistics: 4
AP US History: 5
AP Microeconomics: 5
AP Psychology: 5
Hobbies
Music, Pickleball, Rock Climbing, Cooking
Tutoring Subjects
College Physics
High School Physics
IB Physics