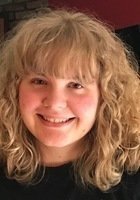 Cassidy
Certified Tutor
I tutor students in English, English Grammar and Syntax, Essay Editing, Pre-Algebra, and Writing (including High School Writing). Of these, my favorite subject is Essay Editing, as I enjoy the process of helping someone transform a rough draft into a polished final copy.
I am currently a rising sophomore majoring in linguistics.
Education & Certification
Undergraduate Degree: Cornell University - Bachelor in Arts, Linguistics
Test Scores
SAT Composite (1600 scale): 1540
SAT Math: 750
SAT Verbal: 790
Hobbies
My primary interest is in foreign language study. I have studied Mandarin Chinese since I was young, and I hope to learn more languages in the future. Aside from studying foreign languages, I often read books, exercise, or play video games in my free time.
Tutoring Subjects
High School Writing
SAT Verbal