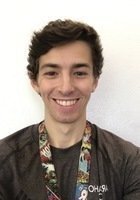 John
Certified Tutor
Over the course of my academic and professional experience working with students, including several years as a public speaking tutor and writing mentor, the thing that has become most clear to me is how much we can improve in fields of study if we truly put our minds to it. I have seen students grow and improve in so many ways and that is the most rewarding thing about this type of work. You get to see students realize their own potential and help them realize that they can be better and they can do this - so long as they put their mind and effort to their work the best is always possible. As is the opportunity to learn and grow both as a student and as a teacher.

I graduated from Regis University in Denver, Co. with my Bachelor's in English and a Minor in Writing. I am also currently earning my Masters of Fine Arts in Creative Writing.

Outside of tutoring and my academic world, I enjoy reading, creative writing, playing video games, running, watching movies, and spending time with my dog Lexi (who is the cutest dog on the planet, no debates).

I look forward to helping students hone their skills and feel confident in their academic abilities.
Education & Certification
Undergraduate Degree: Regis University - Bachelor in Arts, English
Graduate Degree: Regis University - Current Grad Student, Creative Writing
Hobbies
Music, movies, reading, dogs. I also do a lot of creative writing ranging from poetry to screenplays. And of course, video games for good measure.
Tutoring Subjects
College English
Fiction Writing
High School English
High School Writing