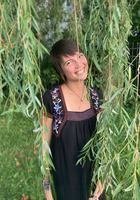 Carolyn
Certified Tutor
Hello! My name is Carolyn Kammer and I am excited to begin the learning process with you/your student! I graduated from DePaul University in 2017 with a double major in Spanish and Psychology, and continued to learn Spanish while acting as an English language teacher on a Fulbright Grant in Guatemala. Post-grant, I further extended my international experience on my 3 month backpacking trip to South America, where I visited seven different countries! It was an amazing experience in which I had the opportunity to further learn about the Spanish language and the many cultures and dialects of the continent.
As you can tell, I am incredibly passionate about Spanish, and about fostering an interest and love of the Spanish language. I tend to prefer interactive activities, games, and conversation as a way to truly engage with and apply the language. Plus, it is just more fun!
I also love creative writing and writing in general. I am a poet and song-writer, but also love connecting data/information and analyzing texts to create a cohesive argumentative essay. I have extensive experience writing a variety of scholarship/college essays and academic essays from my time in university and beyond. I have also done ACT prep previously.
Finally, I have worked with all ages from age 3 to age 25 (and some adult as well) on tutoring/academics. I find that each age and stage has something unique to offer, and its own unique challenges.
I look forward to learning more about your/your student's needs, and collaborating to provide the best support possible!
Education & Certification
Undergraduate Degree: DePaul University - Bachelor in Arts, Spanish
Hobbies
Creative Writing, singing, ukulele, reading, ice skating, philosophy, psychology, Women's and gender studies, restorative justice in education
Tutoring Subjects
College English
Conversational Spanish
Elementary School Reading
Elementary School Writing
High School English
High School Writing
Middle School Reading
Middle School Reading Comprehension
Middle School Writing
Spanish 1