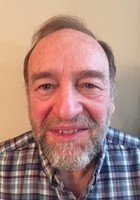 Matthew
Certified Tutor
I graduated from Yale with a B.A. in physics and received my master's degree from Gordon-Conwell Theological Seminary. I recently retired from 16 years of teaching high school physics, general science, and algebra. During those years I spent hundreds of hours tutoring students in those subject areas.
I especially enjoy tutoring in physics where math and science concepts overlap. Combining qualitative concepts and quantitative tools enables us to make powerful applications in technology. It also reveals the profound beauty of the hidden workings of the physical world.
My tutoring style is student centered, patient, and encouraging. I enjoy starting with a problem, explaining the concepts that apply, and then using math tools to produce a solution.
Over the years I have been an avid SCUBA diver and mountain hiker. My current church involvement includes using the Bible to help youth and adults address life's big questions and to develop character.

Education & Certification
Undergraduate Degree: Yale University - Bachelor of Science, Physics
Hobbies
Scuba diving, hiking