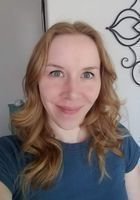 Annette
Certified Tutor
I have been a high school math teacher for 16 years and love it! I also have experience teaching English and Psychology. I teach full time during the day and would love to help students during my off hours.
I have a M.S. in Math Education from Oregon State University.
My favorite math subjects are algebra, geometry and trigonometry and I also enjoy helping students read.
I have experience working with a variety of students. I am able to adapt my work with students based on their math, social and emotional needs. I do my best to make sure students are comfortable working with me by being patient and supportive and using humor when appropriate.
When I have down time I enjoy traveling, reading, watching movies, and snowboarding.
Hobbies
Reading, snowboarding, hiking, baking, crocheting, video games, bike riding, watching movies
Tutoring Subjects
Academic Coaching
ACCUPLACER Arithmetic
ACCUPLACER Elementary Algebra
COMPASS Mathematics
GED Math
Other
Study Skills
Study Skills and Organization