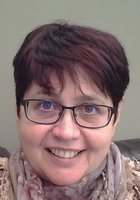 Pam
Certified Tutor
My name is Pam and prior to my teaching career, I worked in the IT industry for 20 years. Since going into teaching I have specialised in teaching students that have either become dis-enchanted with education for a variety of reasons, working with them to get them back on track to achieve their full potential or students that have been unable to attend school, so are being taught at home.

I am a highly organised, motivated and conscientious individual who is prepared to work beyond the expectations required to ensure success and am fully committed to the education of the students I teach. I believe the key to students being successful in their learning is having a tutor they feel comfortable with, and that they feel can provide them with the knowledge and skills they need.

This is why I always prefer to meet with the student and their parents in an initial face to face meeting before starting tutoring - to start building trust with the student, so that we can have a good working relationship which will benefit their learning.

I believe it is important for me to provide students with a supportive, educational experience, that is conducive not only to raising their self-esteem but helps them develop the skills that promote independence and self-motivation. I feel that enthusiasm and a genuine passion for wanting them to succeed has allowed me to easily motivate students.

I believe all students should be given the opportunity to achieve their full potential regardless of their current situation and I consider that this involves: creating an effective learning environment where students are motivated to learn and enjoy learning, by making my lessons interesting, challenging, fun, engaging, and by using effective assessment to inform future learning.

To make students learning more effective, I believe I need to provide them with the skills to be able to become independent learners, to be aware of their own progress and to give them the opportunity to develop key skills that they will apply throughout their lives and working careers and to be informed of what is required, in order for them to progress socially, emotionally and academically. I am passionate and enthusiastic and have received extremely positive student feedback.

I am an experienced teacher having taught a number of subjects over the last few years including: Mathematics and English - from Upper Key Stage 2 to GCSE level, including Functional Skills Applied Business, Computing and ICT at KS3 and GCSE level.

I have had the opportunity to teach these both within a school setting and on a one to one basis within a student's home, so am able to adapt the qualification to suit. I have worked with a wide range of abilities and differing needs, adapting the work accordingly to achieve the best outcome for the student. I am in the process of completing a Masters, specialising in working with students that have dyslexic and dyscalculia.

I have worked with a large number of students that have behavioural issues, that struggle with concentration and previous non-engagement with education. I have also worked with students to provide them with the skills they need to re-integrate back into school after long periods of absence.
Education & Certification
Undergraduate Degree: Edge Hill University - Bachelor of Technology, Management Information Systems
Hobbies
reading, listening to music, computing, and dogs
Tutoring Subjects
Business
Elementary School Math
English
ESL/ELL
GCSE Prep
GCSE Business
GCSE Computer Science
GCSE English
GCSE English Language
GCSE English Literature
GCSE Mathematics
Geometry
IB Business & Management
IB Computer Science
IB Mathematics
Math
Middle School Math
Other
Pre-Algebra
Special Education
Technology and Coding
Test Prep