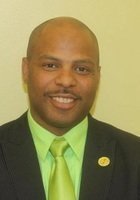 Johnnie
Certified Tutor
Greetings. I am a tutor of many subjects and I am passionate about them all, but above all, I am passionate about your success. My primary tutoring subject is Spanish which I have learned at home and abroad. Living in a local Spanish Community has helped as well as traveling to Spain. My expertise is not just teaching Spanish, but teaching how to learn Spanish.
Education & Certification
Undergraduate Degree: Chicago State University - Bachelor of Science, Business and Managerial Economics
Hobbies
My interest include music (especially foreign and country music), foreign languages, and Chicago architectural history.
Tutoring Subjects
Business
College Accounting
Conversational Spanish
EMT - Emergency Medical Technicians
High School Accounting
Microsoft Excel
Microsoft Office
Professional Certifications
Spanish 1
Technology and Coding