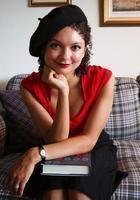 Anabelle
Certified Tutor
Do you need help preparing for the quantitative, reading, and verbal sections of the SSAT? Are you struggling with the critical reading and writing portions of the SAT? Do you want to become a stronger writer? Do you find the prospect of performing a close reading of a Shakespearean monologue daunting? If so, then you've come to the right place.

My name is Anabelle, and I am currently attending the University of Miami School of Law on a merit-based dean's scholarship. In 2012, I was recognized as a Commended Student by the National Merit Scholarship Corporation--out of about 1.6 million PSAT takers, I was among the 50,000 highest-scoring students, or the top 3% of test-takers in the United States. I believe that any student can learn the tried-and-true tips and tricks to achieving standardized test-taking excellence, and I find nothing more rewarding than helping students reach their academic potential.

In addition to standardized test prep tutoring, I am also uniquely qualified to instruct students in English and French. I have a Bachelor's degree in English from Florida International University, where I wrote a thesis on legal and ethical issues in Shakespeare's legal dramas and graduated with honors. I am also fluent in French, and I have been actively involved in French honor societies and organizations such as the Societe Honoraire de Francais and Le Cercle Francais. My personal experience, which consists of attending internationally recognized lycees since childhood, has imbued me with a unique understanding of dual immersion, the French school system, and effective foreign language instruction methods.

I have experience tutoring students of all ages, and I embrace the belief that every student possesses his or her own unique strengths. I look forward to helping you hone them!
Test Scores
SAT Composite (1600 scale): 1500
SAT Math: 700
SAT Verbal: 770
Hobbies
Law, language, literature, accounting, ballet, ballroom dancing, and yoga
Tutoring Subjects
Academic Coaching
ACCUPLACER Elementary Algebra
American Literature
AP French Language and Culture
British Literature
Civics
Civil Procedure
CLEP Prep
CLEP American Government
CLEP Analyzing and Interpreting Literature
CLEP College Algebra
CLEP History of the United States II: 1865 to the Present
College English
College Level American Literature
Comparative Literature
COMPASS Reading
COMPASS Writing Skills
Constitutional Law
Conversational French
Criminal Law
Elementary School Math
Expository Writing
FCAT 2.0 Prep
French 1
GED Reasoning Through Language Arts
GED Social Studies
GRE Subject Test in Literature in English
GRE Subject Tests
High School English
High School Level American Literature
High School Political Science
High School Writing
HSPT Language Skills
HSPT Math
HSPT Quantitative
HSPT Verbal
Introduction to Poetry
ISEE-Middle Level Quantitative Reasoning
ISEE-Middle Level Reading Comprehension
ISEE-Middle Level Verbal Reasoning
ISEE-Middle Level Writing
ISEE-Upper Level Quantitative Reasoning
ISEE-Upper Level Reading Comprehension
ISEE-Upper Level Verbal Reasoning
ISEE-Upper Level Writing
Law
Legal Writing
Middle School English
Other
PCAT Quantitative Ability
PCAT Reading Comprehension
PCAT Verbal Ability
PCAT Writing
Political Science
Property Law
Quantitative Reasoning
SAT Subject Test in French with Listening
SAT Subject Tests Prep
Social Networking
Social Sciences
Spanish 1
Spelling Bee
Study Skills
Technology and Coding
Tort Law